Durango, Durango, Mexico - July 23, 2003
Chapter 11 - Mi hermoso cariño
I stayed for two days in Mazatlan, where I basically did little else than sightseeing and updating my website.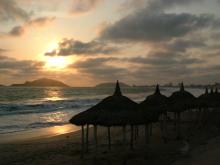 The sunset over the beach in Mazatlan.

The town is basically split into two different areas, the tourist zone to the north, which I did not visit, and downtown Mazatlan, where I stayed. I liked the town, specially the market.

After Mazatlan I had planned to visit Durango and my friend Helena. I met Helena in Toronto at a friend's party and promised that I would be visiting her on my way to South America. The travel guide to Mexico mentioned the road from Mazatlan to Durango as a very tortuous road across the Sierra Madre Occidental. Shortly after Mazatlan, the road climbs steadily up in never ending turns, high above the deep cut valleys of the Sierra. It wouldn't be such a bad road, if it weren't for the thick fog and the many heavy trucks, that climb up at a snail's pace.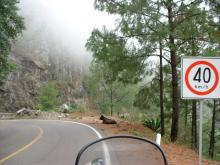 The road from Mazatlan to Durango. There is a cow by the side of the road.

For most of the way, it was not possible to go faster than about 40km/h. In the afternoon, I reached the highest elevation at over 2000m and the vegetation changed to dense pine forests. I felt transported to Colorado, because the resemblance was so stricking.

After lunch, the weather seemed to change. Thick dark clouds were gathering on the horizon. Just after the town of El Salto, I stopped for about an hour wqaiting for the weather to improve ahead of me. There was heavy rain and lightning. The weirdest part was that the weather didn't seem to change and the dark clouds were still hanging over the sky ahead of Durango, so I decided to continue to avoid arriving after dark.

A few kilometres after El Salto, I ran into the most bizarre scene. The road descended into a big, open valley which was completely covered with brown water. All this water was draining through a single hole that passed beneath the road. On the other side, the water was gushing out in giant waves. I hadn't felt more scared than here. Further ahead, water covered the road and I stopped, fearing I might have to stay here for the night.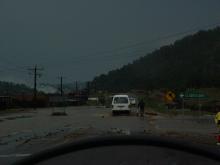 The road was covered by a flash flood in Llano Grande on the road from Mazatlan to Durango.

After taking some pictures, and seeing how even bicycles were able to cross the not so deep water, I crossed myself. Shortly after the water, I couldn't believe my eyes. At the side of the road were piles of hail. This was very weird. Shouldn't I have been in a tropical environment? Well, the weather did improve later and despite of some rain, I reached Durango just before nightfall.

Helena invited me to stay with her and her family at her parent's house. I thought I might stay for a few days, possibly a week, and then continue further south towards Mexico city. Helena's family, her father Jesus, her mother Angelina and her younger sister Adriana welcomed me with open arms. The first day, Helena, Adriana and I visited the town centre, with its main plaza, the cathedral and many of its buildings.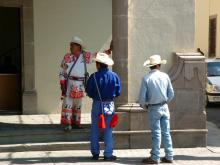 Local people in Durango standing at the main plaza.

We also visited two museums, the regional museum and the archeology museum, where we enjoyed a guided tour. We went to the Cerro dos Remédios where one can see the city from above, went to the Park Guaduiana and walked along the streets and plazas of Durango, which I enjoyed tremendously. But I especially enjoyed Helena's and Adriana's company. I had no idea that Durango would be so interesting.

On one evening, we went out to a local restaurant or bar, where we heard a Mariachi band play. We had a lot of fun and Helena even sang for the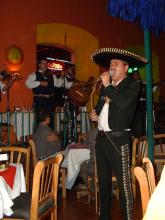 A Mariachi singer with band at a local bar in Durango.

microphone to the tune of the song Mi hermoso cariño, which translated to english would be something like My beautiful love. I tasted my first Tequila, initially with Fresca, which is a sparkling lemonade, then the traditional way with salt and lime.

The next day we went south to Mezquital, where we spend the whole late afternoon at the swimming pool La Joya, The Jewel. This is more like a swimming pool complex, with several pools, tables for picnic and lots of banana plants. It is sort of a tropical oasis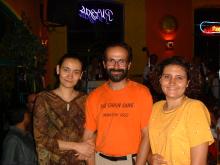 Helena, me and Adriana at the restaurant where the Mariachi band played.

fed by the existence of a natural water spring. Actually, there are two sources of water, one is warm water and the other is cold water. The cold water runs through a canyon after falling from an approximate height of 40 metres. The water in the swimming pools is warm and we spend quite a long time in there, as the colder air felt too uninviting to leave. Well, eventually we left, because we were going to a local disco bar, that includes a rodeo, La Estampida. We didn't see much of the rodeo, as we arrived a bit too late. Neither do I have pictures of the interior, as they wouldn't let me in with a camera, for fear I might take pictures of people who really wouldn't want any pictures taken.

After the rodeo, the dance floor of the disco opens and Helena took me by the hand and we began to dance. Or I tried to move according to the rythm and what I saw other people do, as the music was unfamiliar to me. This music is called ranchero and has a two beat rythm, so it's not too difficult. I hadn't danced with a partner for over three years, thus I was a bit rusty initially, but managed anyhow. The way some people danced to the ranchero music is very sensual, reminding me a bit of Tango, except that the rythm and movements are different. Later, they played country music, including some tunes by Shania Twain and everyone danced in rows in sync with each other. By the end, they played slow music, which I haven't heard in discos for almost 15 years. And I danced pretty much every song, with either Helena or her sister Adriana.

On one day we went north to the small village of Chupaderos, where some westerns were filmed, including some with John Wayne and the canadian actor John Candy. Some of the old film sets in Chupaderos were taken over by the locals for their own purposes, but the look and feel of a movie set remains. It's quite interesting and not overly exploited.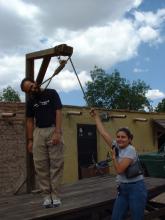 Adriana hanging me at the western movie sets north of Durango.

Before Chupaderos is a smaller place called Villa del Oeste, which is a movie set for westerns, but transformed for tourism purposes. The main street looks like it came straight out of a Clint Eastwood flick.

For lunch, we bought gorditas, which are tortillas stuffed with anything you like, resembling middle eastern Pita bread. They are quite yummy, but my vegan diet is limiting me to a diet of beans and little more. I don't feel like eating meat, but have already commited the sacrilege of eating eggs.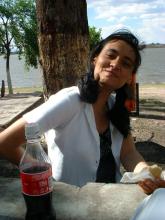 Helena posing for the camera.
We, Helena, Adriana and me spend a lot of time together, visiting Durango and neighbouring places, like El Saltito, which is a waterfall at the base of a small lake. When we visited, the water was just a trickle, being more spectacular after the rainy season, which falls in the summer. I met more of Helena's family, including her older sister Minerva, her husband Miguel and their son Diego, many of her aunts, uncles and cousins and her friends. On one occasion, we played front tennis, which is played on a field enclosed on three sides by a very high wall. It has similarities with squash and tennis, but is a lot more fun. We also enjoyed several evenings playing Uno, which I brought with me for just such occasions.
I am writing this chapter here in Durango a month after I initially arrived. What was supposed to be just a few days, turned into weeks. Well, there is a reason behind this. I fell in love with Helena.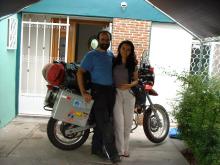 My girlfriend Helena and me on the day I left for Guadalajara

Without getting into details, we are now dating. It changed and will change a few things in my life. I'm still planning to finish my trip, though first I want to finish my journey through the Americas and then see where I want to be next in my life.

You may recall that I needed to fix my problem with the front fork seal and I managed to call BMW in Guadalajara to order two new seals. Thus I left Durango to fix the seal and to buy a new rear tire, as the one I had would probably only do another 2000km. I broke my trip to Guadalajara into two days, so that I could spend some time in Zacatecas, where I found a decent enough hotel, but without parking, so I had to park the bike in a garage. Of the little I saw, Zacatecas gave me the impression of being a nice little town with a european feeling.

There are basically two roads from Zacatecas to Guadalajara, highway 23 and 54. I took highway 54, which enters Guadalajara from the north, transposing a deep green valley. I knew that Guadalajara is a big city, but wasn't prepared for the caos I encountered. My first priority was to find the BMW dealer, which wasn't too difficult. The fork seals had arrived and I payed $20 for both and asked how much would it be for changing them. They wanted $175 and wouldn't let me be in shop while they changed the seals, so I left to find the mechanic who my spanish teacher had recommended to me.

However, first I needed to find a place to stay, preferably in downtown Guadalajara, which I had some trouble finding. Whenever I asked for directions, most of the time those directions wouldn't be specific enough and I would get lost again. I felt quite frustrated. However, I did find helpful people and eventually downtown Guadalajara, where I stayed.

The next day, I found the mechanic, who is an expert in BMW motorcycles. The shop is located on Calle Venustiano Carranza, coming from the main plaza off Teatro Degollado. Unfortunately, I had to wait until the next day to get the fork seals fixed, because the mechanic had to much work for that day, so I had time to kill and visit Guadalajara for the day.

I visited the cathedral, walked around, taking pictures and spend some time in the regional museum. Later in the day, while walking back to my hotel, I passed through the main plaza, where a crowd had already gathered around the mexican flag.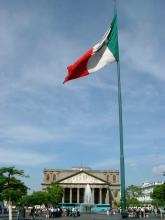 The mexican flag on the main plaza in Guadalajara in front of the Teatro Degollado.

I waited around to see what was going to happen. It was the ceremony of lowering the flag. First, a military band in full battle gear entered the plaza, followed by other military personal, who would lower the flag and fold it. The ceremony was initiated with the playing of the mexican national hymn. Everyone had their right hand held with the palm horizontally extended above the heart. I did the same thing and took pictures with my left hand. Helena had told me about the strong patriotic feeling mexicans have towards their national flag and during this ceremony I really understood what she meant.

On the next day early in the morning, I went to the mechanic to fix my fork seals. Well, it happened that the mechanic wasn't going to be there in the morning, but I managed to convince his son, who is also a mechanic to fix the fork seal. Or at least one and I would do the other one. We both changed the seals in less than three hours. I learned how to do it, so that the next time I can do all of it myself. I used 10 weight oil to achieve a stiffer suspension. In the end, when I placed the forks back in place, inadvertently, I made a mistake by routing the accelerator cable in front of the left fork. This made me accelerate when I turned the steering wheel too much to the right. I didn't find out the cause of the problem until I was at the Honda shop in the afternoon where I changed my rear tire. With the help of the Honda mechanics, we fixed that problem in 5 minutes.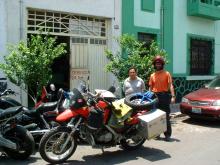 My bike, Aden, the mechanic and me after replacing the fork seals and oil

As I said, in Guadalajara I changed the rear tire to a Pirelli MT40 (the best I could find for $60) at a Honda shop. They changed the tire by hand, using tire irons. I obviously helped and learned how to do it myself. In the end they charged me $5, which is ok. At least the mechanics at the Honda shop were all very nice and let me into their shop in contrast to the strict rules at BMW.

After changing the fork seals and the rear tire, I was very tired and decided to stay the next day and rest. The following day I would go to the small town of Tequila, about one hour northwest of Guadalajara. On the way, I passed numerous Agave fields set amidst the rolling hills. The Agave plant is used to produce the alcoholic Tequila drink. When the plant is ready to be harvested, the leaves are cut and only the central core is used to distill an alcoholic beverage, which in the end will be some form of Tequila. The town is quite small and everything can be seen in one day or less. There are lots of Tequila factories and some offer tours, though I couldn't figure out how.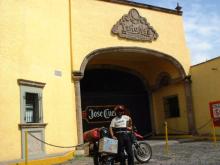 Me and Pippi (the bike) in front of the Tequila factory José Cuervo in Tequila.
The streets are lined with souvenir shops and most of all, with liquor shops that sell any kind of Tequila imaginable. Some of those kinds are home made and sold for the ridiculous price of $4 for 5 litres! The moment you enter one of these shops, you'll be offered a sample of Tequila, no matter how early in the day it is. I couldn't avoid having at least one sample, as I was going to stay for the night.
Apart from the drink itself and the museum dedicated to it, there isn't a lot more to see in Tequila, thus I left the following day, back to Durango to spend a few weeks with my girlfriend Helena. On my way, I encountered heavy rain, specially in Guadalajara, where I was soaked from head to toe. The Darien jacket is useless in heavy rain. I learned quickly not to keep anything in the pockets, as they become completely wet.
I arrived in Durango just before Canada Day (July 1), quite happy to see Helena again. At this time, Durango is also celebrating its foundation with an annual fiesta, with an exhibition and a fair ground. The next three weeks, Helena and I spend most of the time together as much as both of us could. In a few days I'll be going on toward Mexico City, while Helena is going to France. Before I finish my trip through the Americas however, I plan to visit her.